Dear blog readers,
In such a market investors should invest for long term rather than sit sideways.Today we are discussing stock from fast food chain category,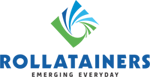 ROLLATAINERS(502448) a packaging firm owned by promoters of well known AMTEK GROUP. promoters holding 74.95%, and fii holding 6.76% stakes in company. Total equity. Is 25.01cr, latest quarter result show company good turnaround candidate, net sales 76.68cr net profit 18.64cr with EPS 7.45. Estimated 2014-15 EPs around 29.
Now company entering food& beverages (f&b) segments last month through their unit CARNATION HOSPITALITY. Company recently acquired management control of coffee chain BRAVISTA from italy's lavazza. Barista is estimated value of 80-100cr,this help expand company's f&b segment. Also they have acquired brand such as WENDY'S WORLDS 3RD LARGEST QUICK SERVICE HAMBURGER CHAIN JAMIE'S ITALIAN, both will be rolled out in Indian market in one year company announcement in website.
Details of company
HERE
This is crazy sector in stock market one can buy for long term basis for their own risk. This share may cross 4 digits mark after they oppen stores.
Share trading. BSE @345 and low volume one can slowly buy small quantity.
Disclosure:- i am interested to buy this share.