Dear friends,
Today we are discussing telecom cable manufacturing company,
Surana Telecom And Power Limited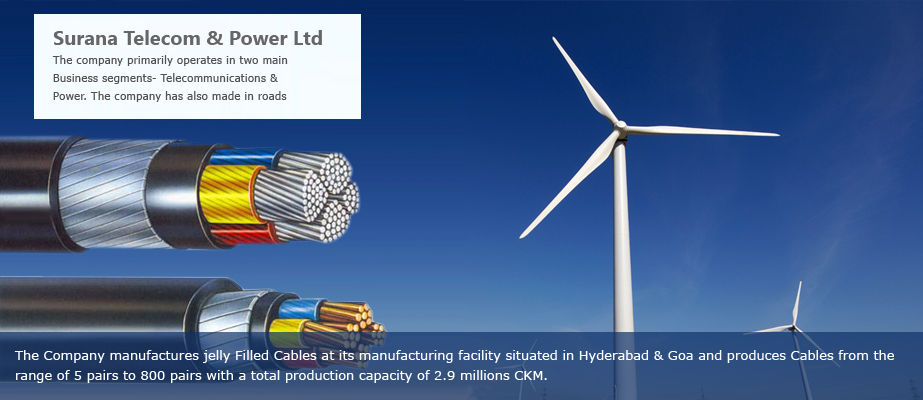 The Company was incorporated as a Private Limited Company on 14.08.1989 as Surana Petro Products Pvt. Ltd and was engaged in the business of manufacturing of Petro Products such as Petroleum Jelly and Telecom products such as Jointing Kits. In 1992 the Company ventured into the Telecommunication sector with the production of Jelly filled Telephone Cables.

Thereafter, the Company was converted into a Public Limited Company on 09.07.1993. By 1994, Telecom business became the primary business activity of the Company and in order to reflect the same the name of the Company was changed to Surana Telecom Ltd. on 05.08.1994.


Keeping in pace with the changing technology the Company decided to expand further in the Telecommunication sector by venturing in to the production of Optical Fiber Cable. For part financing the cost of optical fiber cable project, the Company had gone in for a public issue on 7 th November, 1994 and commenced the commercial production in July, 1995.

The Company in the year 2001 set up a manufacturing facility for optical fiber which is the main raw material for the manufacturing of optic fiber cables. In the year 2002, the Company ventured into assembling and marketing of GSM phones, CDMA terminals with accessories and Line Patch Panel Antenna.

In the year 2007, the Company diversified into the power sector with the manufacturing of low tension and high tension power cables and setting up a 1.25 MW wind power generation plant. In order to reflect the diversity, the name of the Company was again changed to "Surana Telecom and Power Limited" on 11 th October, 2007.

In the year 2008, the Company has ventured into Solar Photovoltaics (SPV) Sector by establishing a SPV Modules manufacturing Plant (a 100% EOU) at Cherlapally, Hyderabad with an installed capacity of 12MW. The Company has also made a strategic investment in solar energy sector by formation of a Joint Venture Company M/s. Surana Ventures Limited jointly with M/s Bhagyanagar India Ltd. The Company is currently listed on National Stock Exchange of India (NSE) and Bombay Stock Exchange of India (BSE). The Company has been accredited ISO 9001-2000 certificate for its manufacturing facilities.
PRODUCTS
POWER
CABLE
The Company manufactures Jelly Filled Cables at its manufacturing facility situated in Hyderabad & Goa and produces cables from the range of 5 pairs to 800 pairs with a total production capacity of 2.9 millions CKM. This unit is approved and recognized by BSNL, MTNL, Indian Railways & Private Telecom Operators
SOLAR PHOTOVOLATAIC
The company has already started manufacturing of SPV Modules with production capacity of 12MW per year. The Module ranges from 5W to 220W. It has set up a joint venture with Bhagyanagar India Limited. The joint venture company is Surana Ventures Limited.
WINDPOWER
The Company is in collaboration with Suzlon has setup wind power generation to produce 1.25MW of wind power and is in the process to expand to 5MW.
SURANA GROUP
Inspiring excellence
A saga of strength and achievement
Since its modest beginning in the year 1978, the Hyderabad based Surana Group, has single mindedly worked towards exceeding customer satisfaction in terms of quality of the product and service. Powered by Professional team of visionaries, with an experience of over four decades, today Surana Group is a well-diversified conglomerate with focus on niche areas of Telecommunications, Copper rods, Copper Pipes, Copper Sheets, Copper Foils and Power Cables, having established itself in Wind Power generation the group is now entering Solar Power and is making giant strides in Infrastructure, Entertainment and Tourism.
The core businesses of Surana Group are in a diverse range of industries firmly rooted in high growth sectors and are today a Pan India enterprise.

, the flagship company of the group has diverse business such as copper products, Jelly Filled Cables, Real Estate & Infrastructure. The company is also into Wind Power generation with an installed capacity of 12MW in Karnataka

., The company currently operates in two main business segments & Power Sector. In its list of products it has Jelly Filled Telephone Cables, Optical Fiber Cables, Assembly of CDMA Mobile hand sets Fixed wireless Telephones, Power Cables.

, The Company is setting up a fully automated Silicon Wafers & Solar Photovoltaic module manufacture unit with an installed capacity to produce 80MW and is also in the advance stage of finalizing 35MW thin film Solar Power project .
Promoter holding 74.09% of 10.40cr paid up equity capital, company posted 30cr sales and 0.73cr net profit in last financial year ended 2013, also company paying dividend regularly. Now company announced stock split into 1re from 5rs. record date of split on 25/11/2014. Stock trading both NSE and BSE @ 37.50 one can buy this stock for medium to long term ,stock can move higher after stock splits.
Disclosure :- I am holding this shares.